Rooms and penthouses
RockyPop Grenoble
Book your ultra comfortable room in Grenoble
At RockyPop Grenoble, sleep is sacred!
There's no secret to a good day like a good night's rest. Get a good night's sleep in one of our exceptional rooms, cosy and equipped with ultra-comfortable bedding, free VOD movies, high-speed WiFi... And much more.
Our Penthouse for 6 persons welcomes tribes of up to 6 people in complete autonomy with its lounge area and its equipped kitchen!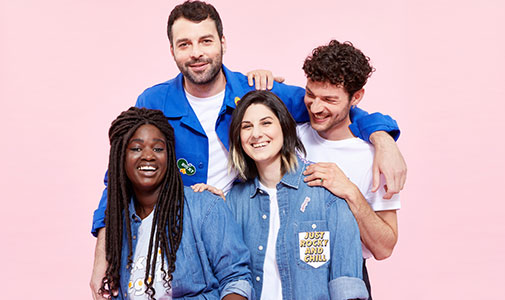 Rooms and penthouses
RockyDuo
Two is always better

1 bed 180x200 or 2 beds 90x200
RockySuperior
A little more space

1 bed of 160x200
or
2 beds of 80x200
RockyDeluxe
One bedroom + a small living room

1 bed of 160x200
or
2 beds of 80x200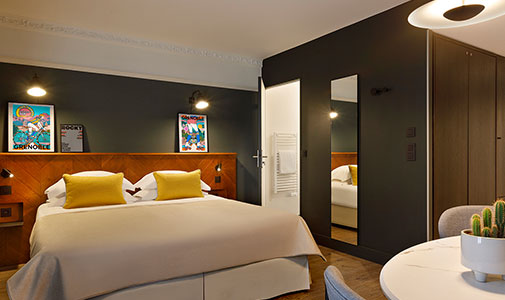 RockySuperior 2+1
1 + 1 = 3

1 bed of 160x200 and 1 bed of 80x200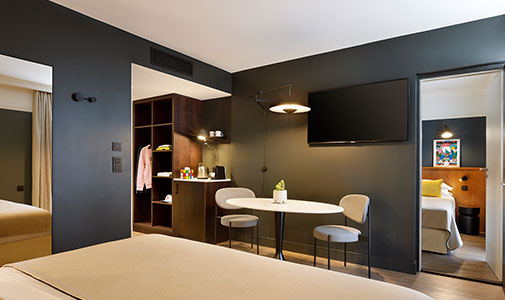 RockyCommunicantes
Together, separately!
x 4

2 beds of 160x200
or 4 beds 80x200
Penthouse
The more the merrier
x 6

1 bed 160 x 200 or 2 beds 80 x 200 + 2 beds 180 x 200 or 2 beds 90 x 200