RockyPop, an uninhibited pop universe by Leslie Gauthier
RockyPop is the new French hybrid hotel brand imagined by Romain Trollet, whose DNA is the joyful mix of entertainment and the experience of living together.
After two openings in the mountains, in the Chamonix Valley and in Flaine, a brand new establishment will open in the heart of Grenoble in November 2022.
Design for the concept
Designed by the interior architect Leslie Gauthier, the uninhibited and colourful decoration contributes to the good humour and joie de vivre that reigns in the premises: Pop culture, a zany, almost regressive universe, where it is good to be alive and to meet.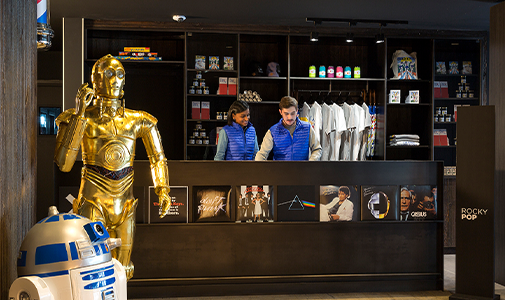 Everything is designed to make guests feel at ease and to meet their expectations: rooms, flats, penthouses, a bar, a full range of restaurants, karaoke rooms, games galore... And, when necessary, the convivial areas give way to quieter spaces, relaxation areas away from the hustle and bustle, such as alcoves or library areas.
By playing with volumes, colours, lights and furniture, Leslie Gauthier relies on originality and surprise to accurately convey the vision of this new, playful and friendly hotel.
"I have all the freedom to instil this new art of living and travelling, where aesthetics are at the service of function," says Leslie Gauthier.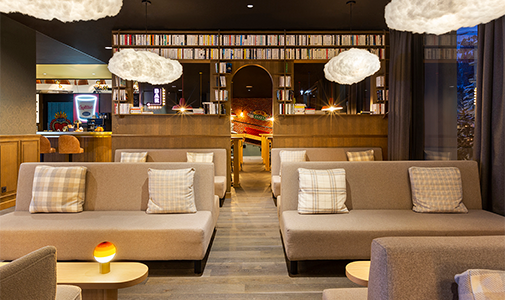 The architect's view: Leslie Gauthier
Leslie Gauthier graduated fromESAIL, the Ecole Supérieure d'Architecture Intérieure Lyonnais, in June 2001 and divides her time between the Alps and Paris.
She admits to a preference for those who have been able to challenge codes and invent a new art of living. The various projects she has undertaken with Romain Trollet prove her ability to imagine a unique style each time, in line with the hotel's concept, for a comfortable and unforgettable customer experience.
What is RockyPop conviviality?
Sharing good times, of course, as a couple, with family, with friends... but it also means thinking of facilities so that travellers from all walks of life and neighbours in the neighbourhood can meet.
For example, in the restaurant, I always propose large tables that encourage exchanges or convivial spaces such as the petanque court or karaoke rooms.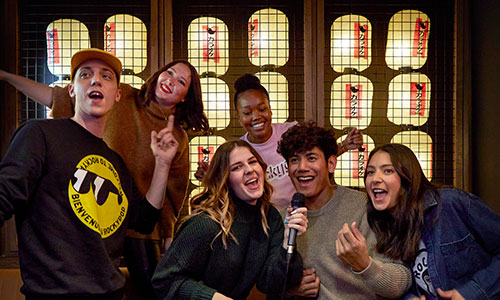 What design styles did you choose for RockyPop?
An atypical and original style drawing its inspiration from Pop culture. We wanted to create originality and surprise with spaces that are both functional and playful, to offer travellers a change of scenery and fun, to leave no room for boredom.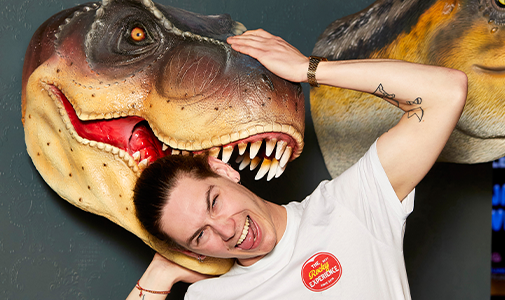 What are the iconic objects that are found in all RockyPop?
Each RockyPop has the same dynamism, the same values, all in an atmosphere that is always energizing, vitaminized and colorful.
In each RockyPop, there are a few decorative elements that create consistency from one establishment to another, such as the GPO telephone or the Rubik's cube-shaped tissue box in the room.